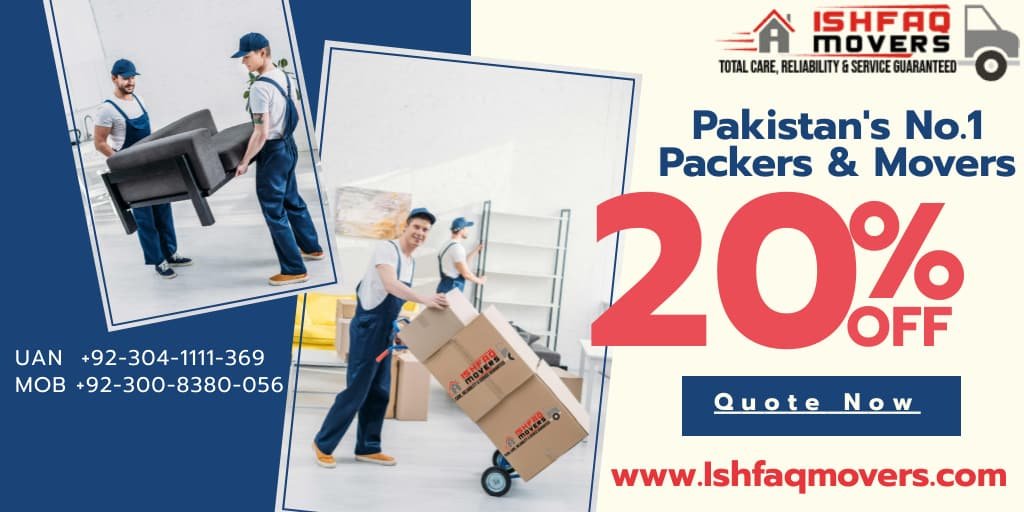 Top Rated Movers and Packers' Services in Lahore
Welcome To Ishfaq Movers And Packers In Lahore.
Ishfaq Movers provides the best house shifting or office relocation services because we are the most trusted or reliable movers and packers in Lahore. We have been highly appreciated and recommended by all our clients. By maintaining top quality for the last 10 years, Ishfaq Movers & Packers has successfully won the hearts of all its global clientele.
Our admirable quality of prompt deliveries has won the trust of our honorable customers, and our promise of delivering all your valuables safely at your doorstep has never failed ever since Ishfaq Movers began.
Ten (10) Main Reason To Choose Ishfaq Movers And Packers In Lahore
Lahore Based Moving & Packing Company.
Attention to detail is our tagline.
Reasonably priced services.
All deliveries are at the exact time.
We guarantee no damages or losses.
Number 1 logistic services provider in Pakistan.
Ishfaq Movers and Packers in Lahore provide round-the-clock support.
Track all your shipments online.
Use any method of payment you're comfortable with.
Move to any location in Pakistan with us.
Try us to know us!
Service Portfolio Of Ishfaq Movers And Packers In Lahore
Ishfaq Movers relocate your stuff from Lahore to all over globe with high quality packaging material & professional staff. Our Major Services are
Home Shifting
Office Relocation
Goods Transportation
Car Carrier
Exemplary Shifting Services in Lahore
Ishfaq Movers is Pakistan's Number 1 in relocation services. Our team of intelligent individuals has proven its worth through on-time deliveries over the years. Our team makes sure all your goods are carefully packed so that there is no damage along the way.
We pride ourselves in serving you better than any other house moving company in Lahore, because our crew's individual and collective efforts come around with the perfect set of skills, hence bringing only outstanding approaches to the table.
We promise to amaze you with our extraordinary moving services. Fill in our form by providing us with your details and requirements for the task.
Then, leave it up to Ishfaq Movers to completely satisfy you, because we are the most preferred packing and moving company in Lahore.
Ishfaq Movers' Credentials
Our success can primarily be attributed to our sincere and dedicated administration, hardworking and dynamic manpower, and vigorous internal processes. We are your first and last stop because of our reliable services.
What Makes Ishfaq Movers Special?
We are considered a class apart due to our unique approach of facilitating our clients, meeting all their expectations, and strategically tackling all the challenges sent our way.
Our ultimate goals are honesty, reliability, and punctuality. Whether you're shifting to a new home, office, moving from one warehouse to another, relocating your shop, or just sending goods from Lahore to any city of Pakistan, we do it all.
Our demand is growing enormously because people move around so frequently in this era. Ishfaq Movers' efficiency has been noticed widely, and several people reach out to us for shifting solutions every single day.
No need to worry if you are unable to take time out from your hectic schedule to pack things.
Even if you are unwell, Ishfaq Movers will do everything on your behalf perfectly. From clothes to cutlery to furniture, we pack and unpack all your household items and relocate them very conscientiously.
Similarly, all your office items and business goods are also secure with the top movers and packers in Lahore.
Lahore Movers are just One Call Away!
Come, let's experience awesomeness together! Help us make your dreams come true by stopping over for a cup of tea at any of our branches in Pakistan. Get in touch for an appointment today!
Avail Ishfaq Movers' exceptional services as soon as possible for the best shifting experience ever. Call, email, or visit us right away!
Frequently Asked Questions (FAQs)
How can I hire the best movers and packers in Lahore at the most reasonable rates?
It's not easy to come across reliable packers and movers in Lahore. Here are the six steps to hiring the best moving company in Lahore.
You have to make sure they are trustworthy, prompt, and efficient.
Make a list of the best packers and movers in your city and check out their credibility online.
Read Google reviews and ask people around you about their experiences.
Shortlist the ones you like, and then contact them for a price quote.
Then pick the one that best suits your pocket.
Don't forget to read the contract thoroughly before signing it!
How can I check the worthiness of the packers and movers?
Nowadays many online company involved in moving scam. Here are three basic steps to check the credibility of a moving company.
First of all, visit their office. A proper office will have the required infrastructure and facilities.
Meet the upper administration and ask them questions. Ask them to show you the original copy of their company registration certificate (N.T.N), license certificate, and other valid documents.
Ask moving company to show her experienced by providing work orders from  clients/companies that they show online on there website.
Which factors affect the costs of packing and moving?
There are Six factors that affect the rates of hiring professional movers.
The distance from the current venue to the destination.
The weight and volume of the stuff.
The size and type of vehicle required to move the items.
The amount of Packers & Loaders (manpower)  required.
The quantity and quality of the packing materials required.
The brand value of the Moving company.
What makes Ishfaq Movers different from other movers and packers?
Ishfaq Movers is a legally licensed packing and moving company in Pakistan. We offer the best deals of the industry and help you save any hidden costs. Our vast experience and positive customer feedback makes us stand out of the crowd.
PACKERS AND MOVERS SERVICES BY LOCATION